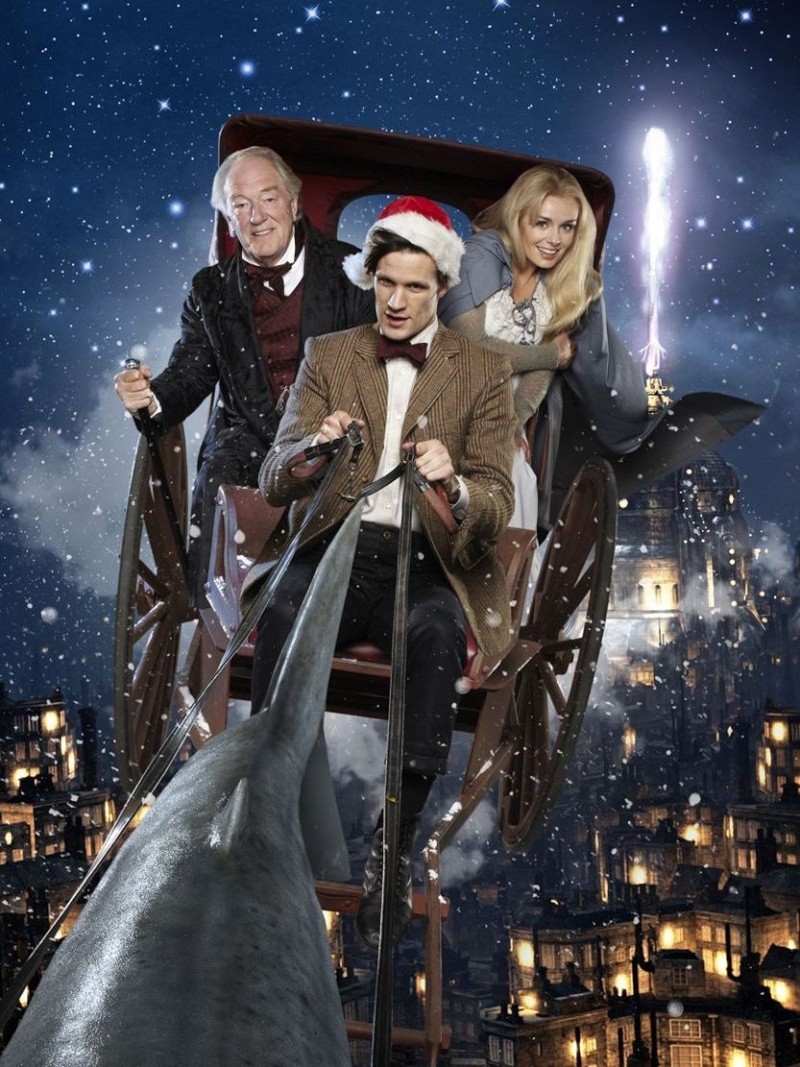 The BBC has confirmed this year's Doctor Who Christmas special, A Christmas Carol with be shown on BBC One and BBC One HD, on Christmas Day at 6pm.
Final schedules were signed off this afternoon. Doctor Who has been shown at 6pm on Christmas Day for the last two years.
This year Doctor Who will be preceded by The One Ronnie, a variety show starring Ronnie Corbett and will be followed by Christmas Editions of Strictly Come Dancing, featuring John Barrowman, and EastEnders.
The BBC Press Office have also released more details on the forthcoming Christmas Special:
It's the deepest part of winter, the exact midpoint, Christmas Eve – halfway out of the dark. Amy and Rory are trapped on a stricken space liner that's plummeting through banks of thick icy fog to the surface of the planet below.
Only one man has the power to save them; only one man is in possession of a machine that can clear the fog and let them land safely.
That man is Kazran Sardick, a rich but lonely old miser who rules Sardicktown with a sky-mast of iron.
The Doctor's only chance of rescuing the ship's four thousand passengers is to save Kazran's soul and show him that life is worth living. For this he needs to go back, way back, to when Kazran was a boy with a life full of promise.
But can the Doctor put a song in Kazran's heart and love in his life, in time for Christmas? Can he bring him out of the dark?
Matt Smith (the Doctor) said:
"I've always wanted to be part of the Christmas Doctor Who experience, and I think this is certainly one of the most Christmassy and inventive Doctor Who stories so far. Steven just keeps getting even more imaginative and the great thing about this episode is that when Doctor Who and Christmas are put together you combine the spirit of both those things; it's a fun old yarn and the Doctor simply loves Christmas.
It was a real privilege to work with Michael (Gambon). I had a great time with him and he was really naughty! He's so crafty and when I asked him about working with iconic actors such as Olivier and Bates he said the one thing they all had in common was they were naughty – and he's exactly the same. He was very mischievous, constantly telling jokes and getting into the spirit of play.
With Katherine I was astounded by her professionalism. Considering it was her first acting experience I thought she handled it with real craft and diligence. It's exactly the type of casting we want; someone fresh, exciting and new."
Katherine Jenkins (Abigail):
"I had the most amazing time; I must admit I was very nervous and I felt out of my comfort zone because I hadn't done any acting before. However, when I arrived on set the whole team was so welcoming and supportive. They made me feel like I could do it. It certainly felt very Christmassy when we were filming it in July! The story is very emotional which I hope is going to touch people.
I do get to sing though which was nice and I had a really good laugh with Matt between takes. He kept mucking around and singing to me but you know people should hear his voice; I think he's got a great bass voice!"
Steven Moffat, writer:
"Oh, we're going for broke with this one. It's all your favourite Christmas movies at once, in an hour, with monsters. And the Doctor. And a honeymoon. And... oh, you'll see. I've honestly never been so excited about writing anything. I was laughing madly as I typed along to Christmas songs in April. My neighbours loved it so much they all moved away and set up a website demanding my execution. But I'm fairly sure they did it ironically."
Ben Stephenson, Controller, BBC Drama Commissioning:
"Matt Smith and Karen Gillan captivated audiences in their debut series, and Doctor Who's clever twist on the much loved A Christmas Carol will thrill BBC One viewers this year with special guest stars Sir Michael Gambon and singing sensation Katherine Jenkins joining Amy and the Doctor for an unforgettable present!"
VETERAN




Posts

: 362


Join date

: 2009-01-03





Similar topics
---
Permissions in this forum:
You
cannot
reply to topics in this forum