Red Dragon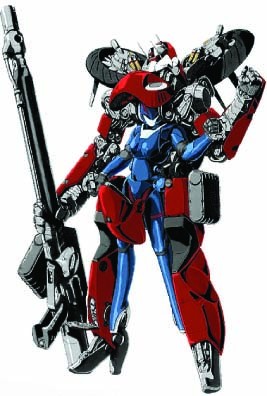 Formerly known as  E.V.E.
Without Hades suit, reduce strength by 2 steps and Vigor by 1 step.
Agility d6, Smarts d6, Spirit d8, Strength d12+3 (d6), Vigor D12+2 (d6)Rank:
Seasoned (35)
Powers:
Armour : Armour +9,   Heavy Armour, requires activation.
Attack, Ranged : Elemental trick
   (Light) - 12/24/48 2d6 damage,
      Heavy Weapon, Area effect (Medium)
Immunity: Air, Wind
Leaping: 16"
Super Attributes:
      (Super Strength 5),  (Super Vigor 4)
Toughness: +2
All powers contained within power armour.
Skills:
Fighting D8, Intimidation D6, Knowledge
(Computers) D6, Knowledge (Electronics)
D6, Notice D6, Repair D6, Shooting D8
Streetwise d6
Charisma: +2 ;
Pace: 6/16"
Parry: 7 ;
Toughness: 19 (9)
Hindrances:
 Arrogant, greedy, heartless, overconfident
Edges:
Arcane Background (Super Powers), Attractive, connections,
Power Points x 2
Powered Armour Suit - "Experimental Variablearmour
Enhancement"
HADES - "Heavy Armor Detachable Enhancement System"
_________________
"Believe it or not," Doc advised her, "we get some fun out of this sort of thing."
Currently GM-ing:
Star Trek Adventures Playtest
Currently Reading:
Nigel Kneale - Quatermass
http://rennyscorner.webs.com/
GAME MASTER




Posts

: 1390


Join date

: 2009-01-02


Age

: 52


Location

: Crawley, West Sussex

Character sheet
Name: Renny


Powers List

Armor
Trappings: Body armor, a shell, powered suits.
Your villain gains 3 points of armor each time this power is purchased. This could represent mystical armor, power armor, or some other source of protection. Armor does not stack with regular armor, such as chain mail or Kevlar. The villain takes the highest value instead.
Modifiers
• Heavy Armor (+2): The armor is considered Heavy Armor, and can only be hurt by Heavy Weapons.
• Requires Activation (–1): The armor must be activated. This is a free action, but isn't the character's "normal" state (i.e., he doesn't eat, sleep, and walk about in public armored up). If taken by surprise, the power has no affect.

Attack, Ranged
Trappings: Bolts, blasts, fire, water, hi-tech guns.
You have a ranged attack of some sort. The range is 12/24/48, the damage is 2d6, and the attack counts as a Heavy Weapon.
Modifiers
• Area Effect (+2/+4): For 2 additional points, the attack affects an area the size of a Medium Burst Template, or
Cone Template. Everyone within the template suffers the attack's damage
• Elemental Trick - Light: A tremendous burst of dazzling light flashes along with the power. Everyone affected must make a Smarts roll or be Shaken. This counts as sunlight for vampires and the like.

Immunity
Trappings: Tough skin, magic, similar powers
Your villain has limited immunity against a particular matter or energy based attack, such as air/wind, cold/ice, fire/heat, radiation, darkness, light, steel, wood and so on. Villains made of a particular substance (such as sand or insects) typically purchase this power for the same type of matter or energy as well. You may choose this power multiple times to select different immunities. Background effects of the particular energy type (walking through fire, in a nuclear reactor, etc.) are completely negated. Damage from direct attacks from the selected energy form is halved (roll normally, then halve the total).

Leaping
Trappings: Massive strength, springs, thick legs.
Your villain may actually be able to leap tall buildings in a single bound. The number of points you put into this power determines how far your villain can jump, vertically or horizontally. Your villain automatically ignores falling damage for heights up to his vertical distance. This might occasionally be negated if he is bound or unconscious and cannot land on his feet.
Death From Above: If combined with a melee attack, the villain may add his level to any damage caused at the end of his jump. The victim can see it coming though, so each +1 added to damage

_________________
"Believe it or not," Doc advised her, "we get some fun out of this sort of thing."
Currently GM-ing:
Star Trek Adventures Playtest
Currently Reading:
Nigel Kneale - Quatermass
http://rennyscorner.webs.com/
GAME MASTER




Posts

: 1390


Join date

: 2009-01-02


Age

: 52


Location

: Crawley, West Sussex

Character sheet
Name: Renny



---
Permissions in this forum:
You
cannot
reply to topics in this forum